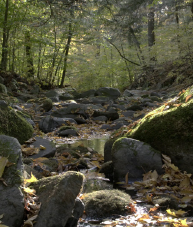 Mark Tribe
NOV. 15-27
TALK & RECEPTION THURSDAY, NOV. 29, 2018, 5-7PM
FREE + OPEN TO PUBLIC
Wilderness is vanishing before our eyes. New Nature is an ongoing project that combines the visual language of landscape photography and the formal legacy of structural film in the creation of archival audiovisual recordings of wild landscapes. These recordings are meant to be acquired and preserved by museums so that they might one day be experienced by future generations.
About the Artist
Mark Tribe is an artist who works across media and forms, including painting, photography, installation, video and performance. His recent work explores the relationship between landscape and technology. He has had solo exhibitions at the Corcoran Gallery of Art in Washington, D.C.; Momenta Art in New York; Los Angeles Contemporary Exhibitions; the Queen Victoria Museum in Launceston, Australia; and DiverseWorks in Houston. He has received grants from Creative Capital and the New York Foundation for the Arts. He is the author of two books, "The Port Huron Project: Reenactments of New Left Protest Speeches" and "New Media Art" (Taschen, 2006), along with numerous articles. Tribe is chair of the MFA Fine Arts Department at School of Visual Arts in New York City. In 1996, he founded Rhizome, an organization that supports the creation, presentation, preservation, and critique of emerging artistic practices that engage technology.
About the Cal Poly University Art Gallery
The University Art Gallery is a venue for helping to nurture creativity, empathy, innovation, design skills, storytelling, and big-picture thinking by bringing bold thinkers, emerging and established artists, and creative professionals to campus. Providing a venue for five exhibitions each academic year, the University Art Gallery serves Cal Poly and the surrounding area. The gallery showcases nationally and internationally known artists, as well as student, alumni and faculty artwork.