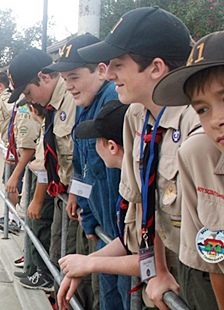 This program is offered on a semi-annual basis. It is also offered any time as an independent program, schedules permitting. See the Merit Badge contact information at right.
Next Presentation and Sign-Off Day: March 10, 2019, 1:00pm-4:30pm
Registration ends when 20 participants register.
See photos from a previous class: March 4, 2018.
Here's info about San Luis Obispo Railroad Museum's next offering its next Railroad Merit Badge Class and Sign-Off Day. This class gives local Boy Scouts of America an opportunity to earn their Railroading Merit Badge. Scouts will participate in various activities that will fulfill the Railroading Merit Badge requirements, including an interactive Amtrak history tour (time permitting), learning basic signals, model train displays, whistle/horn demonstrations, and learning from Operation Lifesaver presenters about rail safety.
Eight prerequisites will be assigned upon enrollment and must be completed by the day of the class.
If you wish to enroll, you MUST enroll directly though the San Luis Obispo Railroad Museum; enrollment cannot be done through troops as reservations are made exclusively through the San Luis Obispo Railroad Museum. Those who do not pre-enroll through SLORRM will not be admitted on the day of class. Space is limited and registration is available to the first 20 scouts that enroll!
*Cost is $30: Cost includes a model railroad kit and materials for the day.
Related Documents:
SLORRM-Railroad-Merit-Badge-Checklist.docx
Merit-Badge-Workbook.pdf
Requirement-1a.docx
Requirement-1c.docx
Requirement-2a .docx
Requirement-2b.docx
Requirement-3c .docx
Requirement-7c .docx
Merit-Badge-all-docs.zip (2.6mb)
Contact:
For information and enrollemnt, contact:
Email: RRMeritBadge@SLORRM.com
Phone: 805-548-1894
BSA's Railroad Merit Badge webpage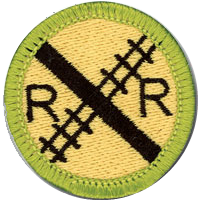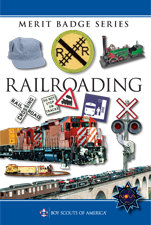 Boy Scout Merit Badge in Railroading, story by David Weisman in the Station Host Association of California's newsletter: PDF