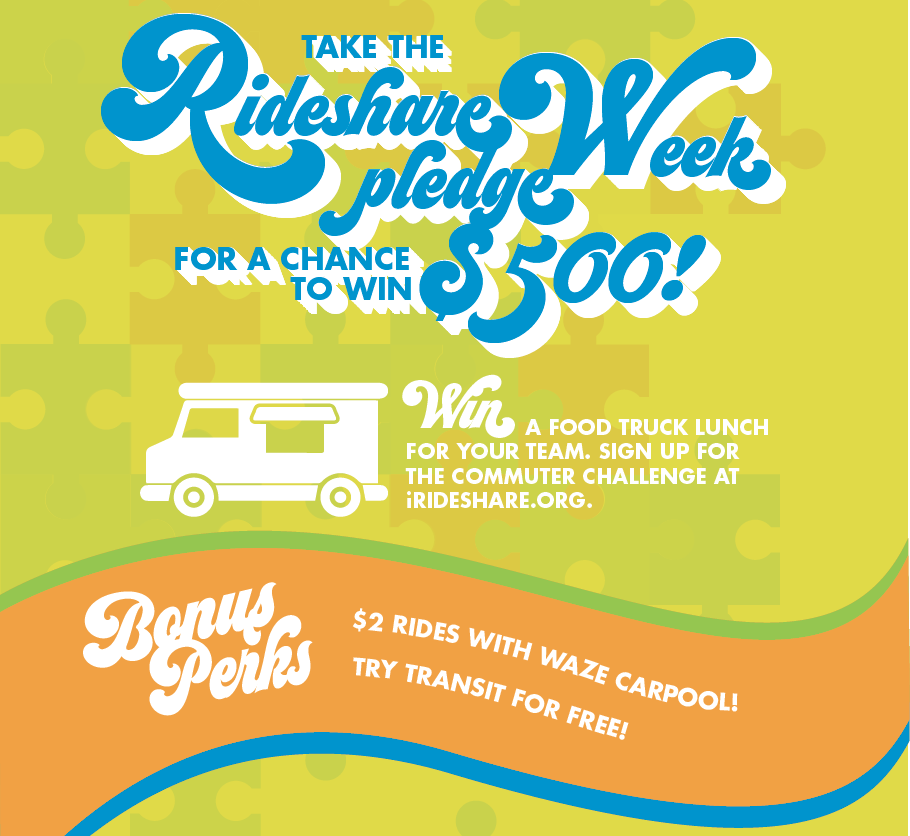 October 7-11, 2019 is Rideshare Week!
Take the Rideshare Week Pledge below for a chance to win $500!  Each action you pledge to take will earn a chance to win $500.

You can also pledge in-person at one of our many events to celebrate Rideshare Week in San Luis Obispo County! Just look for the GIANT banner at the following locations:
Friday, September 20th: Ten Over Studio in San Luis Obispo from 8am-6pm.
Friday, September 20th: Cal Poly WOW booth with SLO Transit / Commuter Services from 1pm-4pm
Friday, October 4th: PARK(ing) Day Rideshare Week Kick-Off events at:

Big Sky Café, SLO from 11:30am-1:30pm, w/ Mayor Harmon @ 12:30
Branch Street Deli, Arroyo Grande from 11:30am-1:30pm
Cal Poly from 11:30am-1:30pm

Tuesday, October 8th: Caltrans D5 Office and Midway locations from 11:30am-1:30pm
Wednesday, October 9th: Atascadero State Hospital from 9am-1:30pm
Thursday, October 10th: Cal Poly coffee zone with Waze Carpool from 9:30am-11:30am
Thursday, October 10th: French Hospital Waze Carpool lunch zone from 11:30am-1:30pm
Friday, October 11th: Sports Warehouse Waze Carpool lunch zone from 10:30am-1pm
---
Rideshare Week Bonus Perks
$2 Rides with Waze Carpool
YOU MUST CONNECT YOUR iRIDESHARE.ORG ACCOUNT TO WAZE TO PARTICIPATE. Learn how to do this.

Free Transit Days – participating providers (dates and restrictions apply, see below):

SLO Transit – ride free from Oct. 7-11th
Morro Bay Transit – ride free on Oct. 10th
RTA – email us for a free "Try Transit" pass

Win a food truck lunch for your team!
Sign up to compete against other businesses to reduce the most vehicle miles traveled by carpooling, vanpooling, taking the bus, biking, or walking to work, and you could win! Compete as an individual, team of ten friends, or for your employer. Winners in each category will steal the Rideshare Week Title Trophy from last year's winners: Toni, Get Outside Assessors, Cal Poly ORED, County Auditor/Controller, or PG&E. Top competitors will unlock a bonus challenge to win a FREE food truck lunch. Login or create an account at iRideshare.org to compete now!
Why should you pledge?
More than 75% of commuters choose to drive alone to their destinations. This leads to road congestion, air pollution, effects on our personal health and well-being, and depletion of our natural resources. Rideshare Week invites you to explore other ways of getting where you are going, by pledging to try something new. You'll save money, improve your health, reduce your stress, preserve our air quality and make efficient use of our transportation system. AND, you could win big!
HELP US SPREAD THE WORD!
Display a Rideshare Week poster at your office or business.
---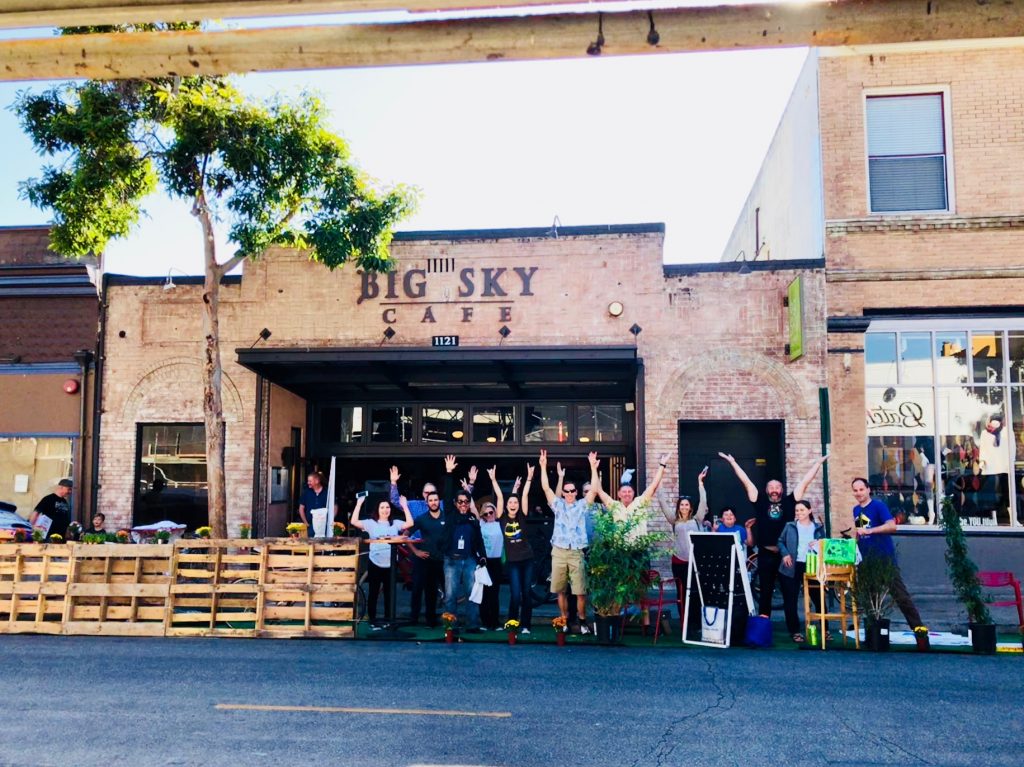 Thank you to everyone who pledged to make a smart commute choice in 2018!
Together, we reduced 92,917 vehicle miles traveled (VMTs) in our region. The top competitors in five categories were awarded Rideshare Week title trophies.
PG&E – 4,912 VMT reduced
"This is definitely going in our trophy case. There's a big nexus between how far the plant is from town and the need for employees to find an alternative to driving alone, like vanpooling. We are proud that our employees think seriously about their commute choices, and we are so excited for this acknowledgement."
County Auditor/Controller – 3,711 VMT reduced
"It's our privilege to be able to make smart commute choices and get rewarded for it! The title is great fun (especially for ultra-fierce competitors like we have at the Auditor/Controller), but the draw is the healthier lifestyle that comes with making smart commute choices."
Cal Poly ORED – 1,808 VMT reduced
"Our office is really proud of the smart commute options we make on a daily basis, and especially during Rideshare week. Winning this trophy inspires us to keep doing what we're doing, and to recruit more members of our office to join us."
Team Breathe Easy – 1,295 VMT reduced
"Winning the Rideshare Week team title is just a bonus–the real prize is making smart commute choices and cruising through town on our bikes!"
Toni, Atascadero State Hospital – 1,000 VMT reduced
"I go by the motto, keep calm and carpool (or in my case vanpool). Those miles just fly by!"